Antwoorden op je vragen
FAQ
Wat je wilt weten voordat je start


Kan ik een cursus offline volgen?
Internet toegang is nodig, omdat alle cursus inhoud online staat.
Kan ik de cursus volgen op mijn iPad, tablet, iPhone of smartphone?
Jazeker! Deze online school This online school is past zich aan op alle mobiele apparaten. Houd in gedachte dat een groter scherm zoals een tablet, laptop of computer fijner is om op te werken.
Welke browsers worden ondersteund?
Wij ondersteunen alle laatste versier van de meest bekende browsers. Voor het optimaal gebruiken van de leeromgeving raden wij Google Chrome of Mozilla Firefox aan.
Welke vormen van betaling accepteren jullie
?
Je kunt betalen met creditcard of iDeal om de cursus te activeren. Als beide geen optie is , stuur dan een mail naar:
[email protected]
. Wij maken een rekening voor je met onze bankgegevens zodat je het bedrag zelf kunt overmaken. Zodra de betaling akkoord is wordt de cursus door ons gekoppeld aan je account.
Kan ik de website vertalen in een andere taal?
EncausticHouse is in basis een Engelstalige website. Toch kan de site voor het grootste deel vertaald worden in een andere taal, bijvoorbeeld Nederlands. Om pagina's te vertalen raden wij aan om de internet browser Google Chrome te gebruiken. Deze internetbrowser is ontwikkeld om veel vertalingen voor je te maken. Je kunt Google Chrome downloaden op: t
www.google.com/chrome
1. Open the website www.encaustichouse.com in Google chrome.
2. Klik met de rechter muisknop en ga naar
'Translate to … (kies je taal)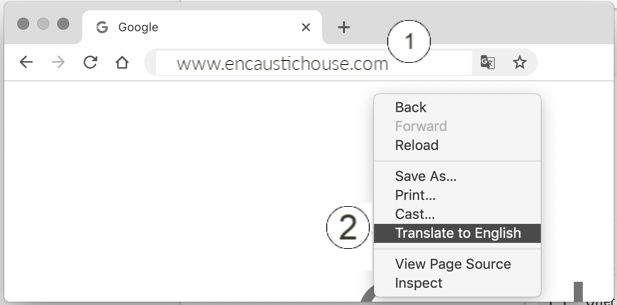 De vertalingen zullen niet perfect zijn, maar je zal zeker begrijpen wat er wordt bedoelt.
Let op! Videos worden niet automatisch vertaald door Google Chrome.
Cursus vragen


Hoe lang heb ik toegang tot de cursus?
Zo lang EncausticHouse.com bestaat kun je cursus materiaal terugkijken en verder gaan met de cursus. Er is geen tijdslimiet.
Kan ik meer dan twee cursussen tegelijkertijd volgen?
Ja! Zoveel cursussen als je wilt!
Hoe lang duurt een cursus?
Dat hangt van de cursus af. Voor iedere cursus is dat anders. Lees de cursus omschrijving.
Hoe snel krijg ik toegang tot mijn cursus na betaling?
Je krijgt meteen toegang tot de cursus als je een online betaling doet. Als betaling verloopt via een factuur, linken wij handmatig de cursus aan je account. Dit kan 1-2 dagen duren nadat de betaling akkoord is.
Kan ik cursusmateriaal met anderen delen?
Alle inhoud op de website zoals tekst, afbeeldingen, logo's, iconen, afbeeldingen en videomateriaal is eigendom van Encaustic House. Je mag het materiaal van de website niet reproduceren, kopiëren of verspreiden. Als je een cursus volgt, is deze voor persoonlijk gebruik. De video's en inhoud mogen niet met anderen worden gedeeld. Logisch toch? Voor een gedetailleerde beschrijving:
Algemene voorwaarden
(Engelstalig)
Er is een oplossing voor ieder probleem


Problemen met inloggen bij EncausticHouse?
Zorg er voor dat de combinatie van e-mail en wachtwoord klopt. Als je nog steeds problemen blijft houden, ben je misschien je wachtwoord vergeten. Je kunt simpel een nieuw wachtwoord aanvragen:
create a new password.
Problemen met het afspelen van de video?
Onze videospeler probeert automatisch de videokwaliteit aan de internetsnelheid aan te passen, waardoor de hoogst mogelijke kwaliteit wordt verkregen, maar in bepaalde gevallen is dit bij zeer langzame verbindingen soms niet mogelijk. Probeer je verbinding / internetrouter te resetten of probeer, indien mogelijk, toegang te krijgen tot je online cursussen met een betere internetverbinding.
Of probeer het volgende:
Sluit extra browsertabbladen of andere toepassingen die mogelijk de bandbreedte gebruiken. Zorg ervoor dat je de nieuwste versie van je browser gebruikt.
Andere vragen?
We willen je graag helpen! Stuur een bericht via het
contact form
ulier
. We proberen zo snel mogelijk te reageren.
Created with