Answers to your questions
FAQ
What do you want to know before you start


Can I follow a course offline?
Internet access is required since all of the course contents are online. We also recommend using a broadband internet connection, especially when you have to go through video content.
Can I take the courses on my iPad, tablet, iPhone or smartphone?
Of course you can. This online school is fully responsive in all kinds of mobile devices. Keep in mind that a larger screen such as a tablet, laptop or computer is more pleasant to work with.
What browsers are supported?
We support the latest versions of all well-known browsers. For optimal studying experience we recommend using Mozilla Firefox or Google Chrome.
What forms of payment are accepted?
You can pay with Creditcard or iDeal to activate a course. If one of these payment methods is not possible, you can send an email to
[email protected]
. We make an invoice for you with our bank details. Once payment has been approved you will get access to the course.
Can I translate a page into another language?
EncausticHouse is basically an English-language website. However, the site can largely be translated into another language.To translate pages within EncausticHouse, we recommend using the internet browser Google Chrome. This internet browser has been developed to make many translations for you. You can download Google Chrome at
www.google.com/chrome
1. Open the website www.encaustichouse.com in Google Chrome.
2.
Click with the right mouse button and go to 'Translate to … (choose your language)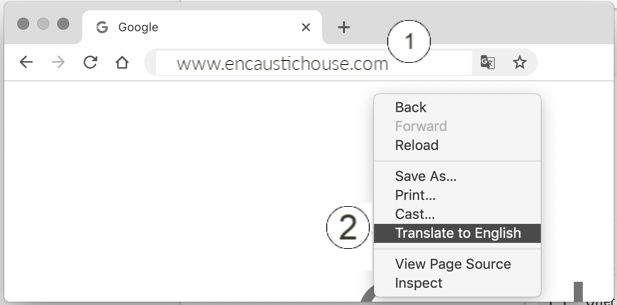 The translations will not be perfect, but you will certainly understand what is meant.
Pay attention! Videos are not automatically translated by Google Chrome.
Course questions


How long do I have access to the course?
As long as EncausticHouse.com exists you can review course material as often as you want and continue with the course. There is no time limit.
Can I take more than one course at a time?
Yes! You can take as many courses as you wish!
How long does it take to complete a course?
It depends on the course. Each course has different time requirements. Read the course's description.
How soon will I get access to my course after payment?
You will get access to your course(s) immediately after your make an online purchase. If payment is made through an invoice, we will link the course to your account manually. This can take 1-2 days after the payment has been approved.
Can I share course materials with others?
All content on the website such as text, graphics, logos, icons, images and video material is the property of Encaustic House. You may not reproduce, copy or distribute the material from the website. If you follow a course this is for personal use. The videos and content may not be shared with others. Logical right? But we would like to point it out to you. For detailed description:
Terms and Conditions
There is a solution for every problem


Problems logging in to EncausticHouse?
First of all make sure that the combination of e-mail and password you tried is correct. If you are still having problems it might that you have forgotten your password. In this case you can simply
create a new password.
Troubleshoot issues with video?
Our video player automatically tries to adjust the video quality to your internet speed, giving you the highest quality possible but in certain cases, for very slow connections, this might not be possible. Try to reset your connection/internet router or, if possible, try accessing your online courses using a better internet connection.
You may also want to try one of the following:
Close extra browser tabs or other applications that may be using up your bandwidth. Make sure you're using the latest version of your browser.
Other questions?
We would like to help you! Send us a message via the
contact form
. We try to respond as quickly as possible.
Created with